We use an industry-best CNC Plasma burning table, providing tight tolerance, high-definition cutting. The table bridge also contains a 40 taper machining spindle allowing us to complete all pre-machine requirements in one operation, creating production efficiency.
Part sizes up to 120″ wide x 480″ long can be cut on our CNC table using our 400 amp high definition plasma or one of our (2) oxy-fuel heads for plates over 3″ and up to 6″ thick.
Superior cuts with smooth surfaces, square corners, no undercuts and less slag on the bottom are obtained through our plasma and oxy-fuel cutting systems.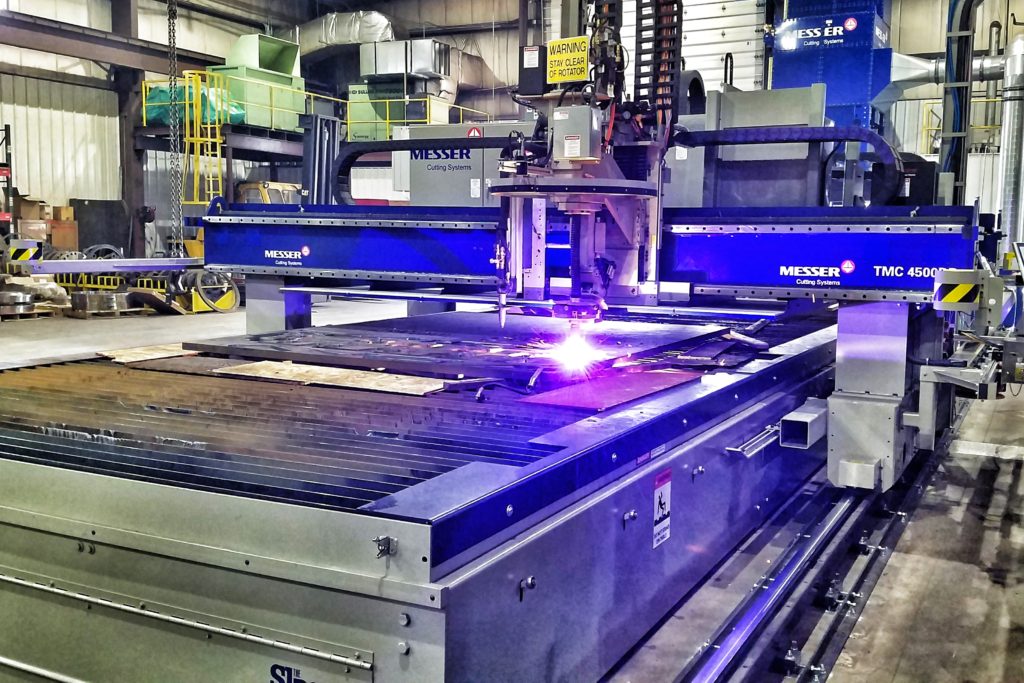 Equipment Specifications
Farley Laserlab CNC Plasma Burning Machine[/row_column]

400 amp High Definition Plasma
Two Oxy-fuel Burning Heads
Airlift Water Table
Maximum Plate Size: 120″ x 480″
Maximum Plate Thickness: 6″
Cutting Tolerance: +/- .010″
Machining Capability
Drilling/Taping/Etching
38 Hp Spindle
40 tool changer
Capabilities
Burning
Milling
Taping
Beveling
Aluminum
Brass
Bronze
Cast Iron
Copper
Steel
Stainless Steel
Carbon Steel
Mild Steel
Break Discs
Castings
Energy Field Parts
Forgings
Heavy-Equipment Parts
AWS-D1.1 – 92 Certified Flux Core & SMAW ASME-Sec. 9-FCAW & SMAW & Stainless FCAW
Welder qualified to Mil. Std 248-D
Construction Equipment
Heavy Lifting
Marine
Mining
Packaging & Printing
Paper
Pipeline & Pipeline Repair
We can produce prototype and one-off runs to high volume production numbers. However, our niche remains in low volume, large part machining
Lead Times: 4 weeks, typically
Part Size Capability: We specialize in large machining. Seven of our work bays have 20 T crane possibilities.
Solidworks
AutoCad
Mastercam programming with direct control link
Computer system networked to all manufacturing phases
We are able to transfer documents and files via E-mail, including quotes, drawings, photos, spread sheets, 3D models and assemblies, CAD files, etc.
Acceptable Drawing Formats:
.igs/.iges
Inventor
Solid Edge
AutoCAD (DWG)
DXF – Drawing Interchange Format or Drawing Exchange Format
PDF
SolidWorks (SLDPRT, SLDDRW, SLDDRT)
STEP – Standard for the Exchange of Product Model Data
(2) 10 Ton Overhead Cranes
(2) 15 Ton Cranes
(4) 20 Ton Cranes
(40) 1 Ton Jib Cranes Tied to All Building Columns