Heavy fabrication has become a trademark of D&S Machine Service. Our state of the art fabrication facility was built specifically to address the air quality demands inherent in heavy fabrication and plate processing atmospheres.
Both our welding personnel and our processes meet AWS D1.1 requirements and we routinely qualify procedures specific to customer requirements.
Our on-staff certified weld inspector guarantees the quality of our workmanship assuring our customers they get what they ordered.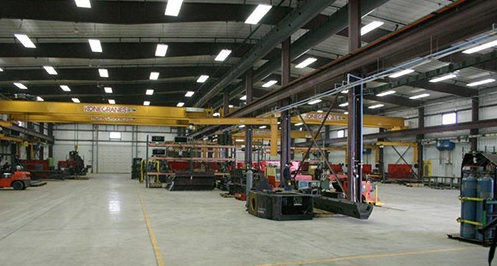 Our 50,000 sq. foot fabrication facility houses our burning and bending equipment and has (10) weld positioners up to 18.5 tons that feature custom fixturing equipment for in-position welding of small or large parts. A 325 ton by 10′ hydraulic press brake supports our fabricators for all their straightening and forming needs.
This facility also incorporates (4) 20 T cranes, (1) 15 T crane and each column has a 1 T crane to assist our fabricators in safely and efficiently handling structures within the work areas.
Our unique combination of large fabrication coupled with our large machining capacity creates the one-stop-shop scenario we have worked to produce.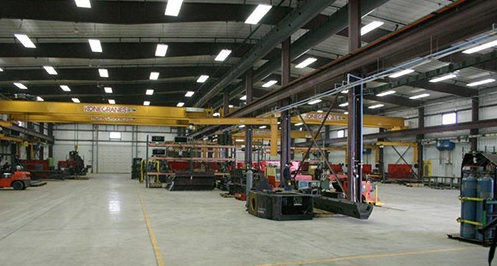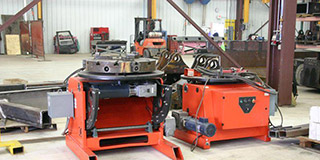 Equipment Specifications
30 – 450 Amp MIG Weld Machines
17 – 500 Amp MIG Weld Machines
6 – 600 Amp Sub-Arc Weld Machines
3 – 200 Amp Hand Held Plasma
1 – 300 Amp Power MIG Weld Machine
2 – 350 Amp TIG Machines
Miller 200-amp wire feed with aluminum gun 48″ x 240″ T-slotted welding table
Miller 35, 150-amp wire feed welder
Miller Deltaweld 452
20-Ton Press and Heat Straightening Equipment
325 Ton x 10′ Hydraulic Press Break with Universal Lower Die
HEM VT120HA-60 (24″) Programmable CNC Saw
Marvel 8 Mark II (20″) Vertical Band Saw
---
Capabilities
Welding
Fabricating: Internal Keyways Boring, Manual Turning, Sheet Metal Forming, Surface Grinding
Assembly
Beveling
Bending
Rolling
Coating 
Grinding 
Honing 
Painting 
Sandblasting
Heat Treating
Internal Keyways
Manual Turning
Sawing
Plasma Cutting
Painting
A572
Aluminum
Stainless Steel
T1
Various Types of Carbon Steel
Flux Core Arc Welding(FCAW)
Shielded Metal Arc Welding(SMAW)
Wire Feed Welding
TIG Welding & MIG Welding
Pulse Arc Welding
We can produce prototype and one-off runs to high volume production numbers. However, our niche remains in low volume, large part machining.
Lead Time: 4 weeks, typically
AutoCad 2000
Mastercam programming with direct control link
Computer system networked to all manufacturing phases
We are able to transfer documents and files via E-mail, including quotes, drawings, photos, spread sheets, CAD files, etc.
Acceptable Drawing File Formats:
.igs/.iges
Inventor
Solid Edge
AutoCAD (DWG)
DXF – Drawing Interchange Format or Drawing Exchange Format
PDF
SolidWorks (SLDPRT, SLDDRW, SLDDRT)
STEP – Standard for the Exchange of Product Model Data
Construction Equipment
Heavy Lifting
Marine
Mining
Packaging & Printing
Paper
Pipeline & Pipeline Repair