Pressure Vessel / Power Boilers Construction Services
We do more than just precision machining and structural fabrication in our facility, we are also a Fully Certified ASME Fabrication Shop.
We hold the following:
ISO 9001-2008 Certified
ASME "U" (Certificate Number 43034) for the construction of Pressure Vessels
ASME "S" (Certificate Number 43033) for the construction of Power Boilers
National Board "R" Stamp holder (Certificate Number R-8745) for the repair and alteration of Boilers and Pressure Vessels.
National Board "NB" Stampholder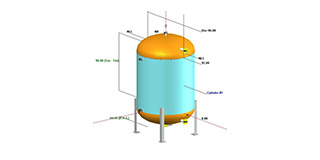 3D – Pressure Vessel
Equipment Specifications | Capabilities
Specifications


Capabilities
Certified New Pressure Vessels
Module Fabrication
Repairs and Alterations
Skid Packages
Materials
We have the ability to weld many ASME P-No's to themselves and to other P-No's.
Capabilities


Standards Met
ASME Section 1 – Power Boilers
ASME Section VIII, Division 1 – Pressure Vessels
ASME Section IX – Qualification of Welding Personnel
ASME B31.1 – Power Piping
ASME B31.3 – Process Piping
ASME B31.5 – Refrigeration Piping
AWS-D1.1 – 92 Certified Flux Core & SMAW ASME-Sec. 9-FCAW & SMAW & Stainless FCAW
National Board Inspection Code – Repairs and Alteration
Pressure Equipment Directive (PED) – European Standards for Pressure Equipment
Canadian Registration Number (CRN)
Welder qualified to Mil. Std 248-D
Primary Operations
Machining
Fabricating
Other Services
Assembling
Engineering Services
Inspection
Shipping
Quality Control Process
Entered into the computerized tracking system
Verified for revisions, material availability and routing
Project Manager reviews routing schedule
Returned to purchasing for order processing
Verified and released to the shop for production
[/table_row]
Production Volume
We can produce prototype and one-off runs to high volume production numbers. However, our niche remains in low volume, large part machining.
Lead Times
4 weeks, typically
Technology
AutoCad 2012
Mastercam programming with direct control link
Computer system networked to all manufacturing phases

We are able to transfer documents and files via E-mail, including quotes, drawings, photos, spread sheets, CAD files, etc…

Acceptable Drawing File Formats
.igs/.iges
Inventor
Solid Edge
AutoCAD (DWG)
DXF – Drawing Interchange Format or Drawing Exchange Format
PDF
SolidWorks (SLDPRT, SLDDRW, SLDDRT)
STEP – Standard for the Exchange of Product Model Data
Industry Focus
Construction Equipment
Heavy Lifting
Marine
Mining
Packaging & Printing
Paper
Pipeline & Pipeline Repair